Do Multi-Touch Displays Actually Work In Education?
The actual school system suffers from various drawbacks. Teaching nowadays includes one-way delivery of knowledge from teachers to students wherein students participate or interact rarely. Learning programs and activities in a traditional classroom are designed with a "one-size-fits-all" approach where no personalized activity is involved based on student's traits.
Even educational processes are restricted by physical boundaries of classrooms and do not involve social relationships with other students. Multi-touch displays and various technology-based solutions are now getting credence over the traditional teaching model since they aim to stimulate students' engagement and participation in the classroom itself.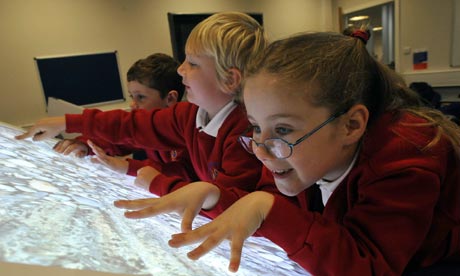 Image credit: Multi-touch Displays
Moving Into Education
Multi-touch driven user interfaces are highly preferred in today's world owing to their intuitiveness and also because of a drastic reduction in hardware costs. Several multi-touch software frameworks (MSFs) have evolved with time because of the advent of multi-touch displays (MSDs).
Harnessing Technology for Education
For students, it is essential that they are fluent and flexible enough in learning mathematics so that their upper primary schooling is strong enough. Such fluency can be developed only with practice. Designing such systems which enhance flexibility is now in the making for the educational sector. These systems are drawing on concepts of adaptive expertise. Many studies indicate that all students increased their fluency after using multi-touch interactive games and participating in collaborative activities since they learn from groups' expressions, thus leading to increase in flexibility.
Interactive and multi-touch whiteboards (IWBs) are now in demand for the classroom in several schools. They can be mounted on LCD Touchscreen trolleys and do not need a data projector. Students of all heights and abilities can access the whiteboards, including those in wheelchairs.
Enhanced Student Interactivity and Collaboration in Education
Multi-touch displays and other supporting devices enhance student interactivity and collaboration across multiple educational subjects, including:
Language Arts:

Elementary school students can use digitized pens or stylus on touch devices to practice writing, while middle and high school students can get their homework done directly on the screen.

New devices have incorporated the advanced palm rejection feature which allows students to rest their hands naturally on the surface during the writing process like one normally does while writing using a pen and a paper. Custom stylus and other devices now take advantage of the screen with text and diagrams with movable icons embedded in any application.

Children would be able to touch letters and hear the sound of their names being written thus encouraging advanced phonetics. By dragging letters to the screen would help them create phonemes and words which can be then played out using a synthesizer. A Google-based strict filtering image search can be used to display images of the words that they have spelt and entered on the screen.

Students can practice tracing letters using fingers or stylus. The touch displays can be used for interactive multimodal feedback which would include sound and visual feedback for the correct style and direction of the tracing process.

Mathematics/Science:

Students can use the touch displays for writing mathematical characters which are normally used in algebra and geometry along with scientific functions and formulas used in physics, chemistry, and biology.

Multi-touch displays are ideal to explore geometry lessons for students. For example, children can be provided with sets of lines and instructed to put together different shapes. Several puzzles using geometric shapes can be easily created thus provoking interest in students in different ways. By using a multi-touch display gadget, students would be able to manipulate pieces as they would do in physical puzzles. Similarly, games can be constructed to drive interest in geometry lessons, for example, a game can revolve around the ability to create triangles from two rectangles.

Multi-touch displays help students to categorize several items with the help of Venn diagrams. Several items and topics can be used to create Venn diagrams wherein students would be expected to categorize, and segregate them based on their attributes in different circles.
Social Skills Enhancement

An important skill for preschoolers is learning to complete multi-step activities like putting away their linens, wash their hands, or sit at the dining table for dinner. Multi-touch displays can be used to spell out the steps of every task or activity.

Multi-touch displays also aid drawing and collaborative storytelling wherein each of them can create visual stories collaboratively. The activity can also involve animation of existing graphics to tell stories with multiple animated elements.

Three Dimensional Designs with virtual clay applications can involve students to shape three dimensional objects of interest, including characters for their stories. The ability to undo, edit, and save their creations would help them putting their imagination to work. A 3D printer can be paired to realize their ideas physically.

Music

Multitouch displays can help children to play digital musical instruments collaboratively.

One can even create custom instruments for which would make it relatively simple for children to play and understand musical concepts.
The Future of Multitouch
It is now important to bring affordable technology for teaching purposes and for helping students to learn better. Use of multi-touch displays has helped usher in, great flexibility to classrooms, lecture rooms, and other educational centres.
Many students are also known to enjoy touch-screen devices owing to their simplicity and speed, and educational games are said to be great tools to teach concepts. Even college students, who have learned with touch-screens, are known to produce significantly higher scores on a post-test in comparison to paper exams. Further, research by computer scientists and cognitive psychologists at Harvard, has revealed that collaborative touch-screen games deliver value beyond play.
Apps for multi-touch devices which deliver active prolonged engagement and social learning are known to be of interest for educational institutions. Students require to be engaged at every turn and various systems to promote creative thinking are now widely accepted to be important for the growth of children's thinking faculties. Government regulations in various countries have necessitated the use of such devices for the progress of students and the advancement of learning methods in the near future.